Koss Cohort Client Project Presentations
November 28 @ 12:00 pm

-

1:00 pm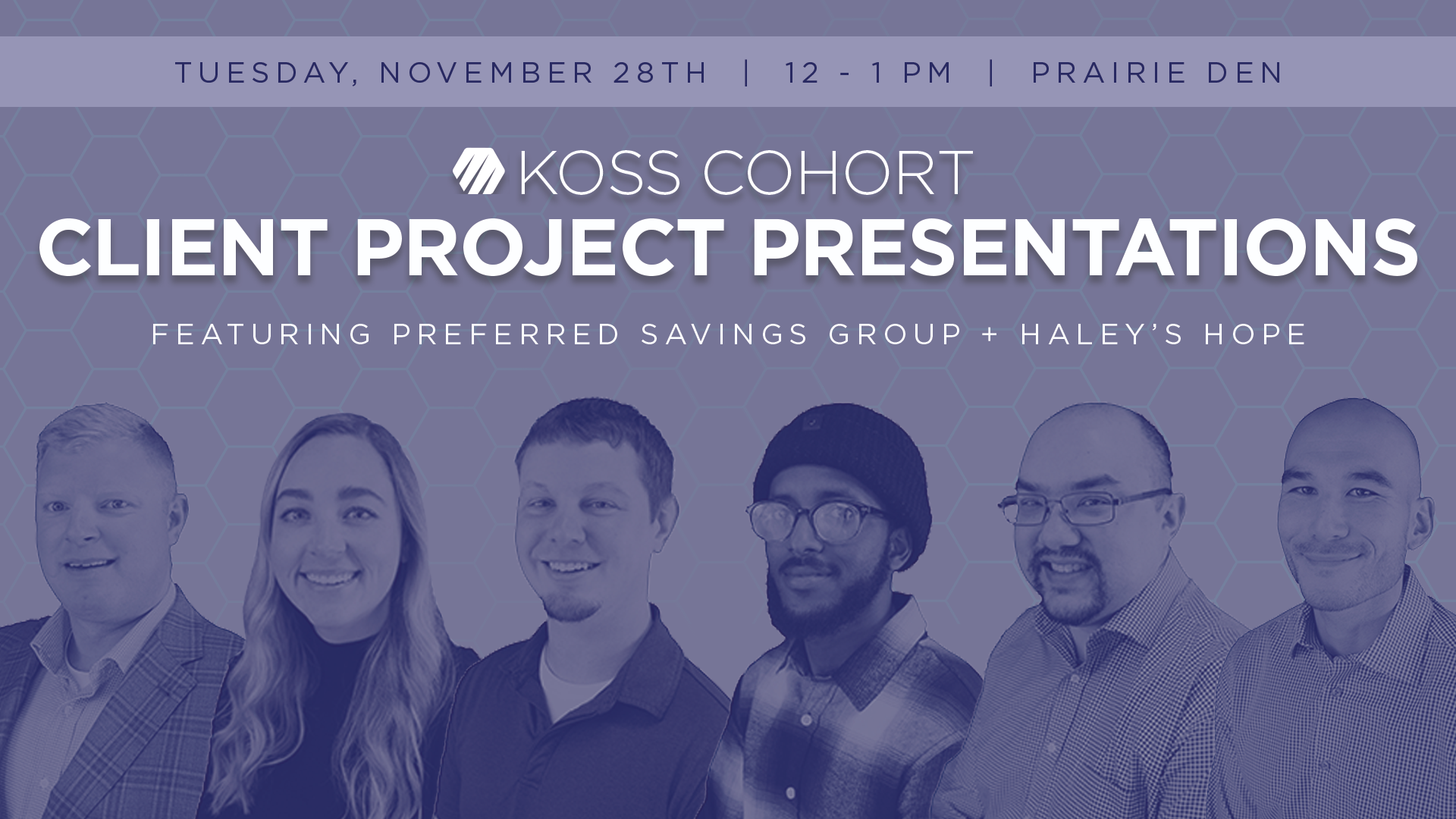 Join us both in person and on our Facebook live stream for an exclusive showcase of the remarkable projects our Koss cohort learners have been hard at work on.

---
WHAT ARE CLIENT PRESENTATIONS?
In the final weeks of the program, our cohorts collaborate with local organizations to embark on a journey of problem-solving and application creation. Within a limited timeframe, they undertake the challenging task of developing a fully functional project for their clients, which serves as a potent simulation of real-world job experience. This experience prepares them for a seamless transition into entry-level positions in their respective fields.
---
WHO IS KOSS WORKING WITH?
The Koss cohort is currently in collaboration with two distinct organizations, with the goal of crafting two unique web applications from the ground up:
– Preferred Savings Group: Our students are diligently working on constructing an administrative prototype portal, designed as a proof of concept. This portal will revolutionize the operational aspects of Preferred Savings by digitizing their processes, enabling efficient tracking of their groups and fundraisers.
– Haley's Hope: The second project entails the development of a comprehensive data management application. This app will allow the organization to input student test results, generate assessment outcomes, and closely monitor their students' progress.
---
WHERE IS THE EVENT?
We invite you to join us at the Prairie Den Coworking + Events space, located in the Black Building on the Skyway level – 118 Broadway N Suite M206, Fargo, ND 58102.
Can't make it in-person? A live stream of this event will also be available on our Facebook page!
---
In addition to the client projects, you'll also have the chance to connect with our students and gain deeper insights into our full stack program. If interested, email Katie Burington at katieb@emergingprairie.com for more information.