StartupBREW Fargo: Agathos Biologics + CorVent Medical
August 17 @ 8:00 am

-

9:30 am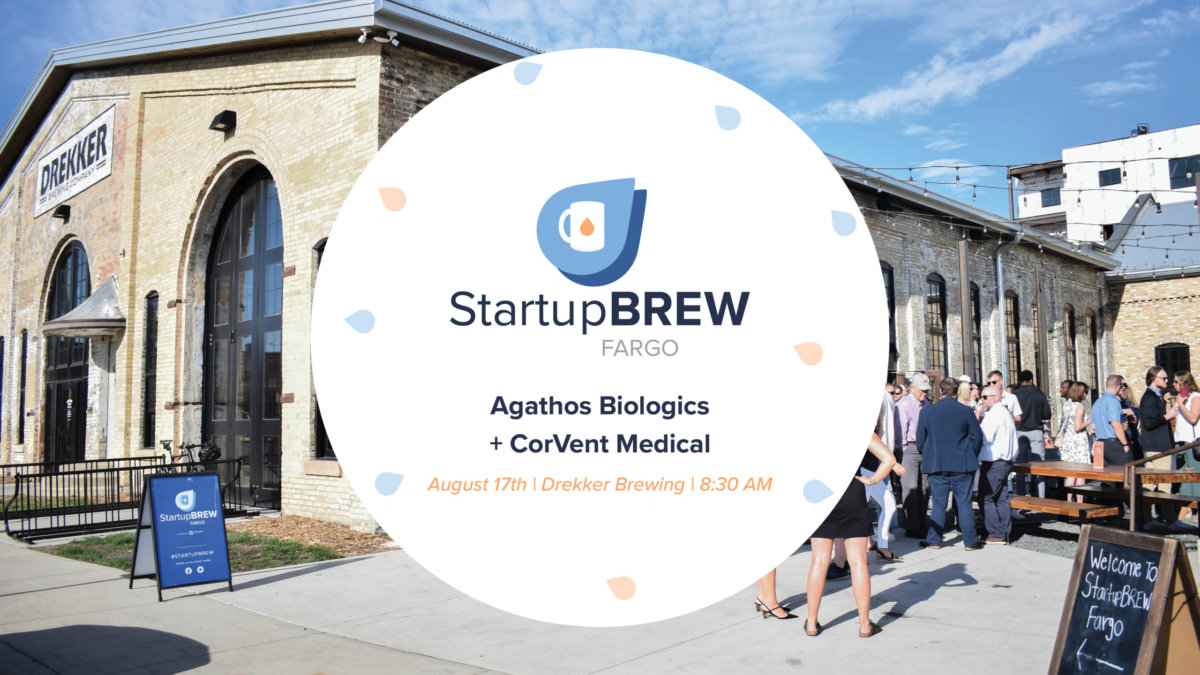 Welcome to #StartupBREW!
Discuss innovative medicine with us at this week's StartupBREW Fargo! We will be joined by James Brown, cofounder of Agathos Biologics, and John O'Mahony, cofounder of CorVent Medical.
Agathos Biologics has initiated research projects to engineer cells to be better at what they do: producing biological molecules. They are developing biological systems to facilitate better delivery of therapeutic molecules, including proteins, enzymes, and nucleic acids, directly to cells. Agathos Biologics is pursuing therapeutic programs that have to potential to significantly improve human health, and is actively working with and seeking collaborators with innovative technology that can accelerate their progress.
CorVent Medical has elevated ventilation design to provide ICU-standard respiratory support in an elegant and robust system that removes unnecessary complexity and cost. They aim to produce reliable solutions that are easy to use for daily and off-the-shelf ventilation so providers can focus on critical patient needs.
---
☕️ Coffee kicks off at 8:00 AM
🎤 Program starts at 8:30 AM
📍 Drekker Brewing Company patio
---
EVENT DETAILS:
This StartupBREW Fargo event will be held on August 17th beginning at 8:00 AM, with the speaker program starting at 8:30 AM. The event will be on the patio at Drekker Brewing Company, so we recommend bringing your sunglasses! We ask that you park in the lot WEST of Drekker by Brewhalla – there should be signs guiding you to the parking lot on the morning of StartupBREW.
---
StartupBREW believes that entrepreneurship is energized over brews, whether it's coffee, tea, or beer. That's why we're dedicated to bringing entrepreneurs, founders, and innovators together – because we believe they succeed when they have access to each other and the community that supports them! Stay up to date with StartupBREW events, speakers, and more by signing up for our newsletter! ☕️