StartupBREW Fargo: Love Always Floral + Farmented Foods
September 28 @ 8:00 am

-

9:30 am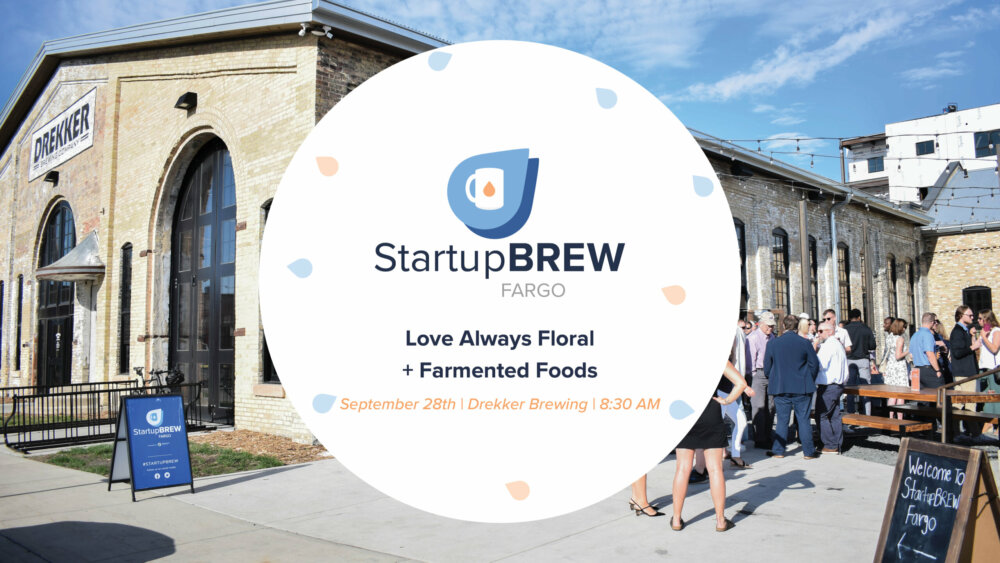 Welcome to #StartupBREW!
Have you ever wondered how startups and small businesses owners manage their operations in multiple cities? Join us at this week's StartupBREW! We'll learn about two multi-city entrepreneurs: Christy Tehven, founder of Love Always Floral, and Vanessa Williamson, cofounder of Farmented Foods.
Love Always Floral is a full service florist business located in both Fargo and Bismarck. They provide full-service floral arrangements, decor, ceremony backdrops, hanging installations, entry ways, and anything else you envision. Every floral project they design is custom tailored and special ordered for your company's specific needs.
Farmented Foods is a vegetable fermentation company based in both Montana and Wyoming. Farmented was born when the two founders looked to solve a problem farmers everywhere face: what could they do with the ugly vegetables that don't traditionally sell? The solution was fermented products. Farmented Food currently sells Radish Kimchi, Dill Sauerkraut and Spicy Carrot Chips.
---
 Coffee kicks off at 8:00 AM

 Program starts at 8:30 AM

 Drekker Brewing Company patio
---
EVENT DETAILS:
This StartupBREW Fargo event will be held on September 28th beginning at 8:00 AM, with the speaker program starting at 8:30 AM. The event will be on the patio at Drekker Brewing Company, so we recommend bringing your sunglasses! We ask that you park in the lot WEST of Drekker by Brewhalla – there should be signs guiding you to the parking lot on the morning of StartupBREW.
---
StartupBREW believes that entrepreneurship is energized over brews, whether it's coffee, tea, or beer. That's why we're dedicated to bringing entrepreneurs, founders, and innovators together – because we believe they succeed when they have access to each other and the community that supports them! Stay up to date with StartupBREW events, speakers, and more by signing up for our newsletter!