The New American Cohort is a 16-week long program that includes training around topics that ensure your company is being built upon a firm foundation, while preparing you for the next stage of growth. Free to apply, this experience offers one-on-one mentorship, weekly programming focused on business fundamentals, speaking opportunities and a vast network of supporters to rapidly scale your impact and business.
This cohort seeks to increase the success rate of New American Entrepreneurs by creating a community and accelerate their growth in the Fargo-Moorhead area.
Weekly Programming - Trainings that prepares entrepreneurs in business fundamentals through the CO.STARTERS program with the The Nice Center.
Media and Press Workshop - A strategy session where a facilitator will work through key talking points, branding assistance and an overall media strategy.
1 Million Cups Presentation - Each cohort member receives an opportunity to speak at 1 Million Cups Fargo. 1 Million Cups Fargo is a free weekly program that educates, engages and connects entrepreneurs from around the midwest.
1:1 Mentorship - Two 30-minute flexible one-on-one mentorship sessions with an experienced community leader.
Prairie Den Access - Each cohort member will receive a Flex Membership for 3 months to the Prairie Den, a co-working space in downtown Fargo that provides a space to work, fast internet access and printing capabilities.
Signature Event - This event gives cohort members an opportunity to share their businesses with community members, supporters and business leaders. More details to come.
participation REQUIREMENTS
You are the founder or co-founder of a venture in any vertical industry.
You are new to the Fargo-Moorhead area (has lived in the area for 10 years or less).
You have

10 years or less of experience with their venture.
Your venture has between $1-$999,999 in annual revenue.
This is not an idea stage incubator; all of our startups must have a form of an in-market product or service.
Must attend at least 80% of sessions and all mentor sessions.
Must present at the Signature Event in March.
This program will be hosted in English; because of that, fluent English is required.

** If you are interested but do not speak English fluently, please reach out so we can gauge interest in creating this program in alternate languages.
2 - 5 hours per week of structured programs.
10+ hours of implementing program tools inside your nonprofit or organization (i.e. refining financial models, apply strategies, etc.).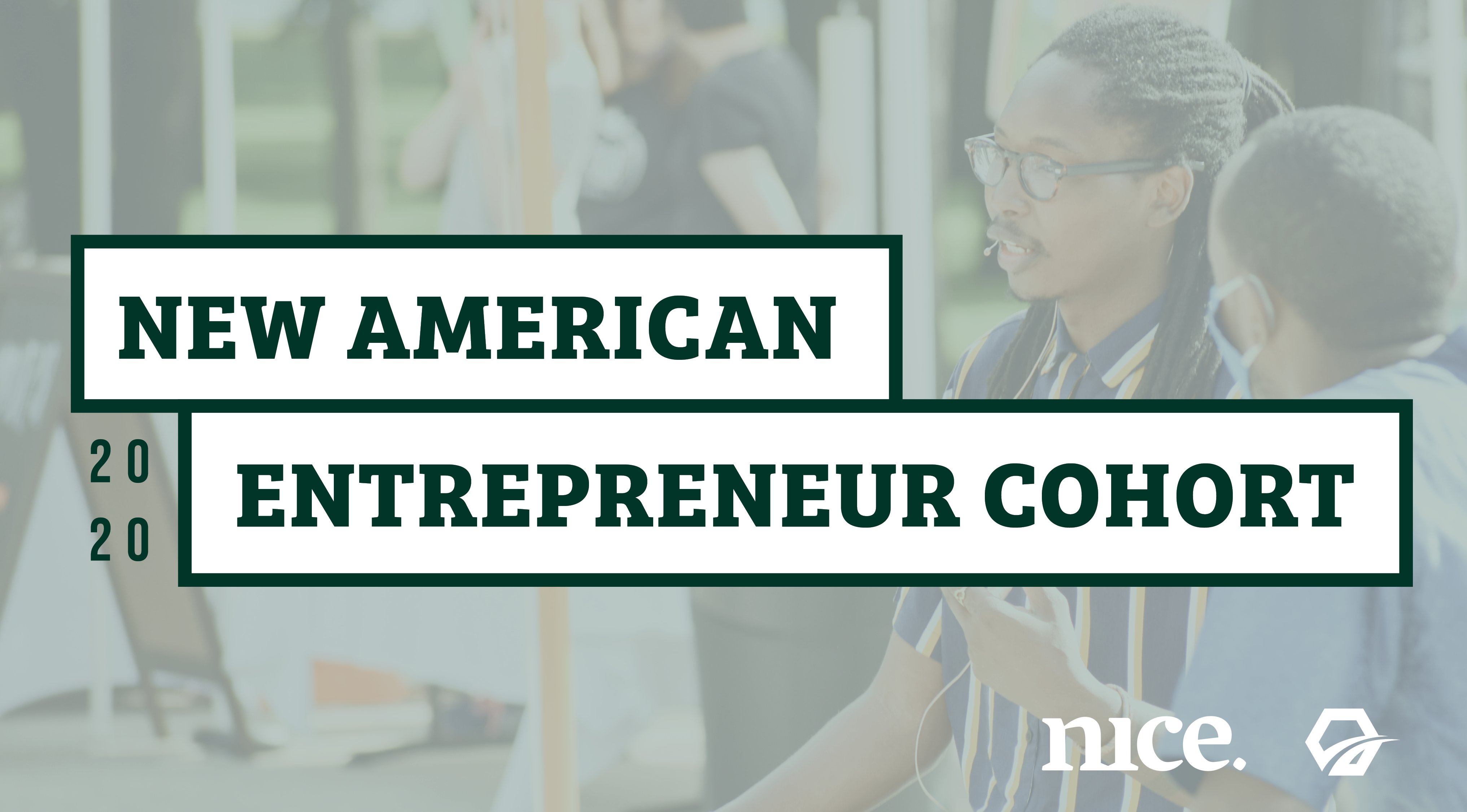 Applications are closed! Thanks for your interest in the program. If you'd like more information, please sign up below.
Review the eligibility criteria and time commitment listed.

Use the link above to apply for the cohort. The application will take roughly 30 minutes.
Applications close on October 11th.

Applicants will receive a notification of the status by October 21st.

New American Entrepreneur Cohort starts in November.
Huge thank you to The Nice Center for making this program possible. 
Sign up to receive emails and learn about the application process, the benefits, and more.