Emerging Prairie is excited to welcome Tanner Palm to the Emerging Prairie Team! Tanner is taking on the role of Business Operations Intern. He'll be helping out with operation management, especially as it relates to the Prairie Den.
Tanner is a Twin Cities native who is currently a senior at Minnesota State University – Moorhead majoring in Global Supply Chain Management and minoring in Operations and Project Management. He loves expanding his knowledge and is a big fan of LinkedIn Learning where he is currently in the process of getting his Yellow Belt certification in Six Sigma. In his free time, you can find him working out, exploring downtown or cooking and grilling for the people he cares about.
Learn more about Tanner and why he's excited to be on the team.
Tell us a little bit about you!
I grew up in Rogers, MN which is right on 94 near the Twin Cities. I have one sister that is ten years younger than me but thinks she's my age. I first came to Fargo 3 years ago to enroll at NDSU. After two and a half years at NDSU, I transferred to MSUM last January due to a major and minor change, but still am a Bison at heart. In my free time you can find me working out, cooking or grilling, and spending time outside. I live by the motto of,"the aggregation of marginal gains" so you can always find me trying to improve! 
What college did you attend? What was your major?
Minnesota State University Moorhead – b. Majoring in Global Supply Chain Management and minoring in Operations Management and Project Management. Graduating in December 2020!
What's one activity that energizes you?
I love going to the gym, playing any sport I can, doing outdoor activities, being in the woods or on the water, expanding my knowledge and spending time with the people I care about.
If you could take a 30 day, all expense paid vacation, where or how would you spend your time?
I would travel around Latin American countries!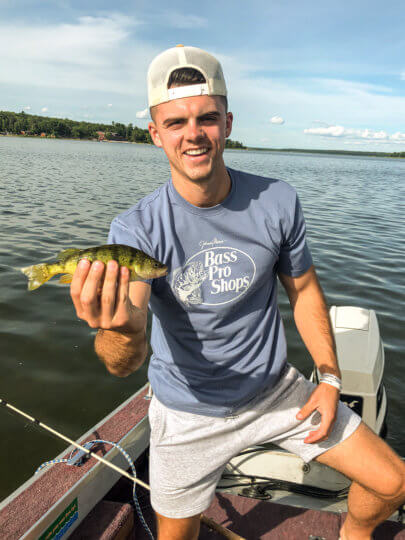 Do you have a favorite book or movie?
I have 3 favorites – Atomic Habits, Make Your Bed, and The Go-Giver.
What's your favorite part about living in the FM area? What's your favorite hidden gem that Fargo has to offer? 
My favorite part about the FM around is the downtown area but also how close and meaningful the community relationships are. My favorite hidden gem is either Thunder Coffee or YoungBlood Coffee, my two favorite places to boost my caffeine intake.
Tell us one random fact about yourself!
I absolutely hate snakes.
Why are you excited to work for Emerging Prairie?
I'm very excited to work for Emerging Prairie because I am someone who is always trying to improve, so to professionally have the vision "to relentlessly improve the human condition" is something I'm ecstatic to be a part of. I'm also excited to work with such motivated and passionate people that try to showcase all that Fargo has to offer.
Make sure to stop and say hi to Tanner when you see him around the Prairie Den!