"Entrepreneurs choose to take risks... to solve problems."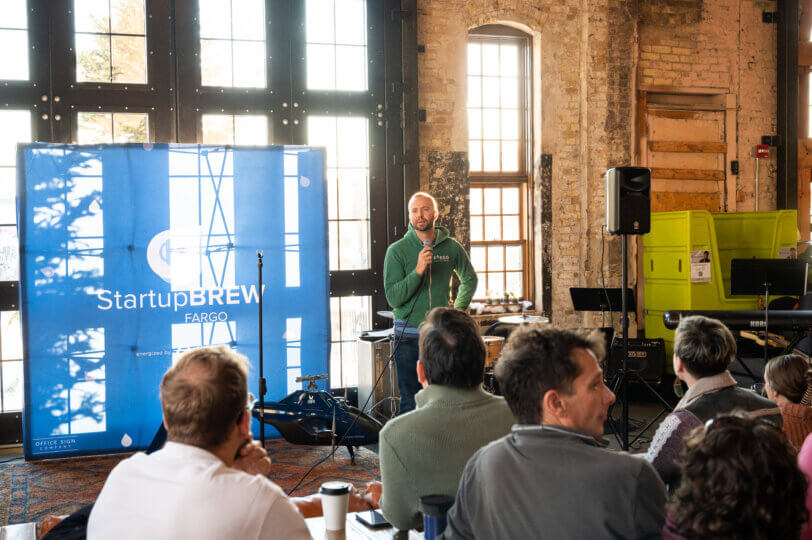 Greg Tehven, founder of Emerging Prairie, welcomed the StartupBREW Fargo Speaker Reunion Day meetup with excitement, curiousity, and gratitude. After 39 StartupBREWs, 79 speakers, and endless amounts of coffee, connection, and conversation, we ended the season off with progress updates from this year's speakers. Keep reading to learn more about their work!
---
Agathos Biologics: Founder James Brown let us know that earlier this year, Agathos Biologics doubled their lab and office space! They also got super cool sportswear merch, which is always exciting.
Laura Caroon: Earlier this year Laura spoke about her experience founding Ladyboss Midwest! She now works as a consultant at Trive, a business-consulting firm. Laura also worked on a campaign for a new library and community center in Moorhead.
Roots Hair & Soul: Founder Sharon Traylor has recently obtained her barber's instructor license! Roots Hair & Soul has also partnered with Skill Cutz Barbershop & Salon to start a hair braiding and locs class, as well as working with MSUM to do hair shows.
Replay Games: Founder Cassidy Schnase told us that Replay Games was recently awarded a Broadway Monument award from the Downtown Community Partnership for their work evolving and shaping the culture in Downtown Fargo!
NDSU Bison Strides: Founder Erika Berg has partnered with two local schools and also launched a community program for adults with disabilities.
Airial Robotics: Founder Jörg Schamuhn brought "Blue Betty", their GT25 Gyrotrak drone, along with him! The Airial Robotics team was visiting North Dakota this week to show the success of extreme-weather flight operations.
New Roots Farm Incubator Cooperative: Founder Verna Kragnes explained that they are currently developing infrastructure for season extension. PRAIRIE (the nonprofit that New Roots is under) is excited to launch a new program in 2023 that will purchase excess food from farmers at the end of a farmer's market sales day for contribution to local hunger relief programs. Donate here!
Uncle Charlie's Gourmet Snacks: Founder Clayton Cottman let us know that Uncle Charlie's has moved into a new office space, made key hires, and continued to build retail relationships to push their products locally, regionally, and nationally!
Fenworks: Founder Kaleb Dschaak told the audience that Fenworks is currently working with five states this year, launching their drone racing program in May 2023, and are bringing esports to the North Dakota Special Olympics this year.
Xtra Apparel Co.: Founder Kyle Voltin recently went through the ILT Academy Startup Program and also worked on some partnerships with Gigi's Playhouse!
Elinor Coatings: Founder Holly Anderson told us that they have recently hired a new crop of interns and are currently working with a local agriculture company to develop a coating that prevents mud from sticking to their machinery. They are also working on federal contract research.
Dynasty Elite Athletics: Founder Nick Hawkins rallied the crowd with a clapping exercise! Dynasty Elite Athletics has grown from 54 athletes to over 130 athletes in two years with many different programs.
Home Equity Partner: Founder Adam Zach let us know that Home Equity Partner has brought on two new full time employees since the last time he was up on the StartupBREW stage. They are currently looking for home-buyers!
1 Pretty Ricky: Founder Ricky Pallay mentored the Startup Cohorts with Emerging Prairie, has continued to establish and reconnect with existing partners, and has a top-secret event happening at the Jasper Hotel on December 30th. Oh, and he's going to be a dad!
Icewind Brewing: Founder Rick Brandvold told the audience that Icewind Brewing worked out a deal with the city to buy the lot next to them, and that they are working to turn it into an outdoor venue! He also asked the crowd to continue supporting local businesses.
Reyna Bergstrom Asheim: The last time Reyna was up on the StartupBREW stage, she was speaking as Miss North Dakota! Since then, she has passed on her crown and is currently working at Sanford.
Elendu Textile: Founder Rolland Elendu has started a new company that is developing a mobile solution to facilitate how we c0llect, track, and recycle textiles. Rolland is also going to be a dad!
FM Aerial & Movement Arts: Founder Yvette Reyes is celebrating one year from being semi-retired in welding! She is also excited to have a team and troupe for her business.
Devii: Founder Anthony Molzahn has raised over $500K, has 350 early-access signups, and 20 partners across 10 countries read to use Devii today!
Signum: Founder Ed Schwind let us know that Signum is working on their year-end growth plan and hoping to get their ISO 9001 certification. They're also being considered to be the primary source for up to 50,000 pieces a year with one of their biggest customers, which would add 20+ jobs in western North Dakota!
Scribble Lady/Designed by Hannah: Founder Hannah Stelter recently launched her new company Scribble Lady earlier this month, with a holiday pop-up shop located in Downtown Fargo next to Scoop N Dough!
Wright Foot: Founder Joe Wright will be at the Christkindl Market this November! According to Joe, "All of the cool kids will be there."
Seed & Spore: Founder Jared Winmill spent the summer focusing on improving his shop and getting back up to full production. He is also working on scaling production to meet local demand!
---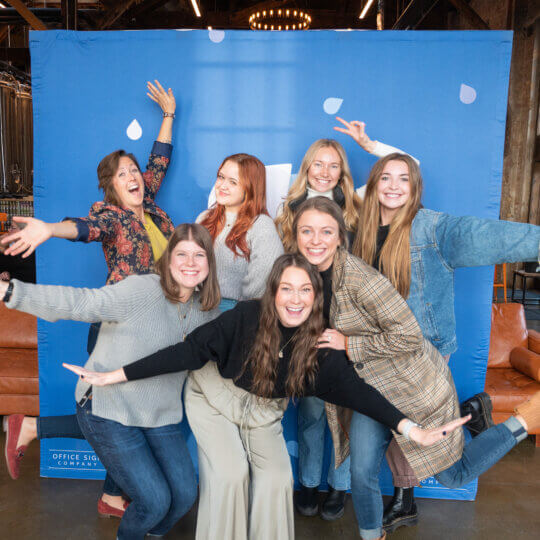 Wednesday, November 16th, marked our last StartupBREW meetup of 2022. While we are already mourning our morning caffeination and inspiration, our gratitude flows exponentially (much like the Thunder Coffee that Colt has poured every Wednesday).
We're grateful for our attendees, our speakers, our vendors, our volunteers, and most of all... the support and entrepreneurial spirit that this community has shown its local founders.
Thank you for allowing us to showcase the community builders in our region, and for showing up each and every Wednesday. Cheers to the past year... and cheers to the momentum of StartupBREW 2023!