Cybersecurity in Food and Ag Supply Chain
June 29, 2022 @ 1:00 pm

-

3:00 pm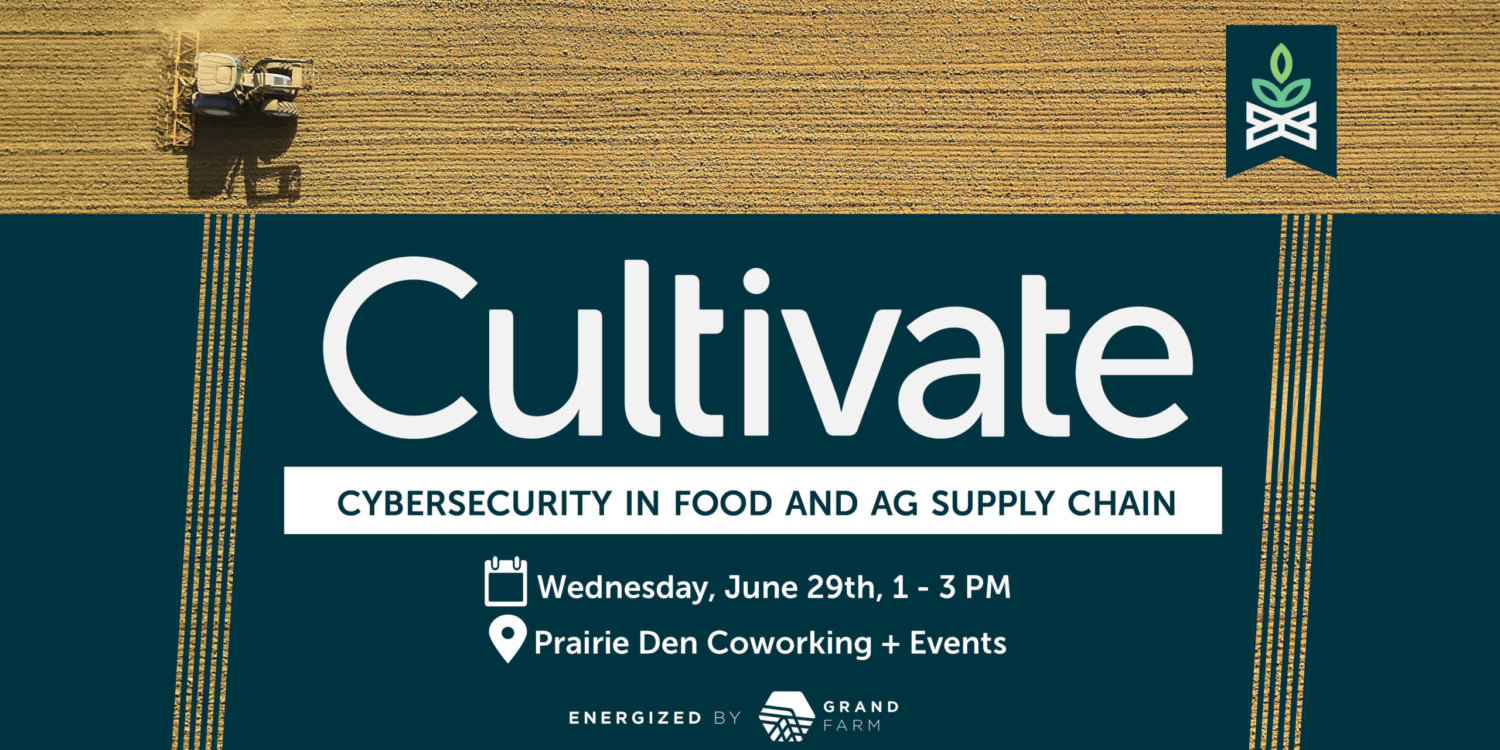 About this event
The age of agricultural complacency towards cybersecurity and related threats has been blown away by reality. The ransomware attacks on JBS in 2021 and the new Cooperative and Crystal Valley attack showed that the era of cybersecurity complacency has ended in the ag sector.
As part of Grand Farm's commitment to lead on topics critical to the future of agriculture, this is a special pre-conference event to the Cultivate Conference, focused on the near and future cyber (and related) threats, mitigation, and responses for the Ag community delivered in straight-forward language.
SCHEDULE
1:00 – 1:10 pm: Introduction from North Dakota Governor Doug Burgum
1:10 – 2:00 pm: Cybersecurity Briefing for Food and Ag Supply Chain
This Grand Farm Cultivate pre-conference special session will review some of the main cybersecurity (and related threats) to the agricultural community, as well as how to mitigate and respond to them delivered in a straight-forward manner. Our experts will review some current threats, simple steps to make yourself a harder target to hit, and what to do if you are the victim of a cybercrime.
SPEAKERS
Andrew Rose – Strategic Advisor
Andrew is deeply involved in the non-profit community, sitting on/or advising many non-profit boards and social impact organizations. He has in the past served as the Chief Strategy Officer in Residence at the Emerging Technologies Centers, the Chair of the Advisory Council for the Maryland Cybersecurity Association, a judge for the first two years (2019/2020) of the Grow-NY AgInnovation event, a senior advisor for the national 2020 American Farm Bureau Federation AgInnovation Challenge event and was an organizer for the TEDxBaltimore events. Andrew recently served as the treasurer for the Keystone Development Center. Andrew helped found the GIVE Program, a leadership training program in Maryland for rising professionals. Andrew Rose began a cybersecurity awareness program in late 2018 while at a major agricultural bank after recognizing that the ag sector wasn't getting the attention it needed about the risks posed by cybercriminals and other adversaries. He helped coordinate several symposiums and events focusing on the topic. He left the bank to dedicate his time to bringing cybersecurity awareness, education, mitigation and response to the food and ag supply chain. In addition to his experience in cybersecurity, he has a deep understanding of the agriculture, banking/finance, risk management, and other professional service sectors related to food, agriculture, and climate.
Garrett Bladow – Senior Advisory Engineer, Dragos
Garrett Bladow is the Senior Advisory Engineer at Dragos, an OT Cybersecurity company. He brings a blend of experiences in cyber security, intelligence, national defense, big data, software design, and agile development working across the public, private, non-profit, and academic sectors. One of the first protocols he reverse engineered was IEC 104 as implemented by Siemens, which raised his level of intrigue and love for Industrial Control Systems. He has served for over a decade as a technical leader at the National Security Agency, leading several cyber capability research and development efforts, as CTO for Redacted, Inc., developing cyber risk management solutions for Fortune 500 and Silicon Valley startup clients, and most recently as a Digital Expert for McKinsey and Company building analytics companies for major clients across the globe.
Henry Heim – FBI Supervisory Special Agent, Critical Infrastructure Intelligence & Engagement Unit (CIIEU), Cyber Division (Food/Ag), Federal Bureau of Investigation
2:00 – 2:45 pm: How North Dakota is a Tech Leader
The state of North Dakota is a leader in creating the next generation of cyber aware citizens. Given Governor Burgum's tech background, this is an expectation rather than an aspiration. At this Emerging Digital Academy showcase you'll hear the stories from North Dakota teams who have excelled at bug bounty, vulnerable testing, AgTech, and more.
SPEAKERS
Shawn Riley – Chief Information Officer, State of North Dakota
Shawn is the sitting Chief Information Officer of the State of North Dakota, appointed by Governor Doug Burgum. Shawn previously served in leadership positions for May Clinic and IBM. His career has included massive change and transformation initiatives spanning multi-billion-dollar organizations in roles as Chief Information Officer, Chief Technology Officer, and Information Management Officer. He has a passion for, and is working on, space-age technological developments for his state. Shawn is always looking to connect with others who have a "we can change the world" attitude as he strives to be a servant leader, improve lives, empower people, and inspire success.
Michael Gregg – Chief Information Security Officer (CISO), State of North Dakota
Michael Gregg is the state of North Dakota's Chief Information Security Officer. The state CISO is responsible for establishing and leading the strategic direction of cyber security for the state and advising the governor and legislators on key cyber issues.With Michael's cyber experience span being over a period of two decades, he has been a pioneer of helping people interested in becoming IT professionals as well as seasoned IT professionals achieve by sharing knowledge by means of authoring over 25 IT cyber security books. He enjoys contributing his time and talents where there is a need to help others learn and grow by holding board, committee, and advisory positions for non-profit organizations. He holds a Bachelors degree, Masters degree, and many security certifications.
David Cumbow – Principal Architect, Palo Alto Networks
David Cumbow is a Principal Architect with Palo Alto Networks. David has spent the last 6 years with Palo Alto Networks running engineering teams throughout the United States to help customers better their security posture. Prior to his position at Palo Alto Networks, David spent thirteen years in the public sector working for the third-largest K-12 school district in Riverside County, California. Having worked jobs from Database Administration to Virtualization, David found a passion for Networking and Security. With eleven years in the Security field, David has led many K-12 Districts throughout California to a better security posture through his thought leadership, guidance, and peer-to-peer consulting. In his current role, David is able to share his passion for building strong security postures with State Government, Local Government, and Education customers throughout the U.S. As a leader in the Security market, Palo Alto Networks can provide the tools needed to holistically and consistently improve an organization's security posture with limited manpower and limited budget. David has implemented these tools to embrace intelligence and automation to improve his previous organizations' security posture and has helped many organizations do the same.
2:45 – 3:00 pm: CyberMadness Student Showcase
This section will feature students speaking about their experience during this year's CyberMadness, a North Dakota High School State Cybersecurity Tournament