Erika Berg is an Associate Professor of Animal Science and NDSU Bison Strides Program Director.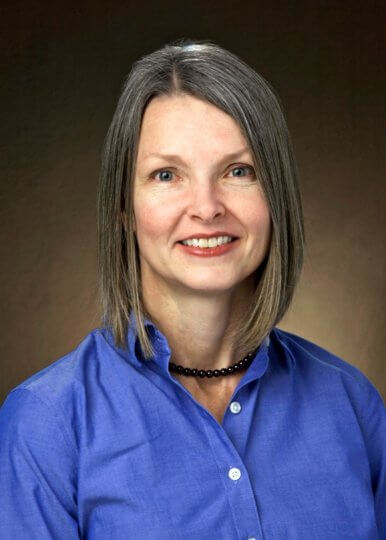 She attended Purdue University in West Lafayette, IN where she earned a bachelor and masters degrees in Animal Science. She then began her PhD in Animal Science at Texas A& M University in College Station, then finished her doctoral work and graduated with a PhD in Animal Science from the U of Missouri in Columbia.  
"Bison Strides is about partnering people and horses, embodying the land-grant ideals of NDSU through innovative education, research and outreach. We serve individuals with physical, cognitive, emotional, behavioral and mental health disabilities and partner them with horses to gain strength, healing and independence."
Bison Strides is part of an academic program in the department of animal sciences at NDSU. The university developed a minor in Equine Assisted Activities and Therapies that began in 2010 and which required students to obtain 25 teaching hours at a Professional Association of Therapeutic Horsemanship International (PATH Intl.) center. From 2010 to early 2017 they partnered with a local program (Riding On Angels Wings) that sadly closed its doors in February 2017. Bison Strides was founded in May 2017 in order to provide students with an accredited site to earn their teaching hours and to provide the community with a place to experience the therapeutic power of the horse.
Although at times it feels as though they are being pulled in many directions, Erika shares that some of Bison Strides highest points are the incredible families and participants they serve, the horses that do the real work, and the volunteer and financial support from the community. 
"We have a dream of building a facility on the NDSU campus dedicated to the powerful work that Bison Strides does – partnering horses and humans for healing. We are grateful to be a part of Giving Hearts Day again this year and this community can support our next stage of growth simply by spreading the word about NDSU Bison Strides via social media, in conversations with friends and families, or however you connect with others. Sharing the message that horses can heal with anyone who will listen, will bring us one step closer to making equine assisted services accessible to anyone who can benefit from the experience."

To learn more about Bison Strides, you can visit their website, NDSU Bison Strides on Facebook and Instagram.