About Monique and Jocelyne Lamoureux
Along with her twin sister Monique, Jocelyne is a former American ice hockey player, author, and Co-Founder of the Lamoureux Foundation. The Lamoureux Foundation is a foundation that aims to provide support to children to help them reach their fullest potential in their educational and extracurricular programs. Jocelyne and Monique both attended the University of North Dakota, where they pursued their undergraduate degrees and their collegiate women's hockey careers.
"We always knew we wanted to start a foundation, but we were encouraged by some close friends to start before we thought we were ready. Through encouragement and learning, as we go, we have been able to start making a significant impact for young kids in Grand Forks."
The highlight of their experience as entrepreneurs is witnessing the positive change in the lives of the children they can reach; however, a low is feeling as though there is more that they can do, but not knowing where they will start. So many children are in need, and the Lamoureux twins are motivated by helping these children to succeed.
"We want to cheer for the one behind so that all kids have an opportunity to reach their full potential. If we can eliminate stressors like helping provide all students with a hot lunch, then students can focus on learning and being their best in school." 
About Dare to Make History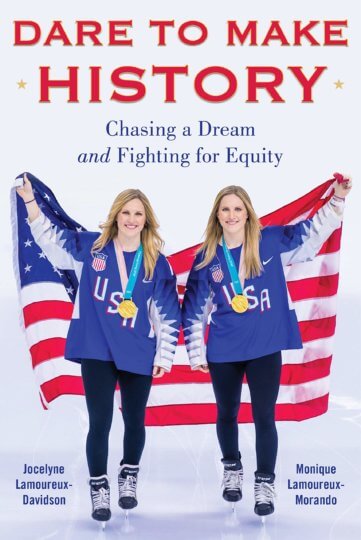 Dare to Make History: Chasing a Dream and Fighting for Equity, written by Jocelyne and Monique, is a story based on their fight to be treated as an equal. On their journey to achieve a gold medal in women's ice hockey, all eyes were on them as they quickly became role models for generations before and after them.
"We were encouraged that we had a story worth being told, and we felt that our team's story was important to share. We believe that our teams fight for gender equity is an important moment in women's sports history and to be able to share that and intertwine it with our journey illustrates that in the pursuit of trying to achieve something great, making a difference along the way is more important and more impactful."
Dare to Make History is not only a memoir about their hockey careers; it is a call to action to help those who are in need. No matter how that change is created, the Lamoureux sisters want to use their voices to encourage the individuals near and far to strive to make a difference. 
Learn more about the Lamoureux Foundation + Dare to Make History on their Twitter, Facebook, and Instagram @jocelyneUSA17 & @moniquelam7, and check out their website Lamoureuxtwins.com!