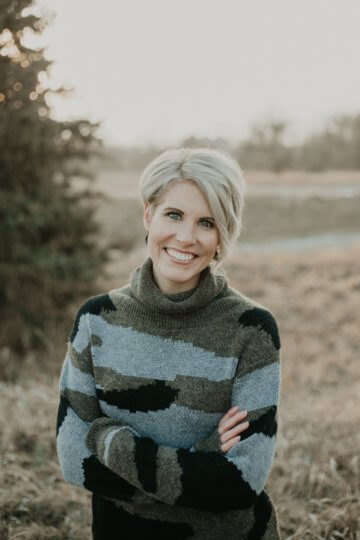 Melissa Marshall is a Managing Partner & Consultant for CoreCounts, located in the Oak Ridge Development – 3308 Oak Ridge Pond Way East in West Fargo. A proud graduate of North Dakota State University, Melissa chose to pursue an entrepreneurial route in 2020. "Some people might think starting a business in the middle of a pandemic is crazy, they might be right, but we could see that the pandemic was actually magnifying the need for CoreCounts. Why we do this work became much more important, making it clear we had to do it now more than ever."
CoreCounts is an analytics and consulting company that serves organizations and teams. They do this in two ways: 1. by providing a tool that acts as a compass to empower leaders in navigating the human side of business with grace, and 2.  They also understand that, even with the proper tools, sometimes the journey of business can feel overwhelming and stopping to work on the things we know we 'should' work on (the human and emotion-based side) can feel like the easiest thing to put on the backburner. So, they remove the overwhelm by partnering clients with consultants to facilitate empowering sessions specific to your business' or team's needs.
CoreCounts was created by a group of people who experienced great culture, mediocre culture, and terrible culture. "We knew things could be different because we were led by empowering leaders, we witnessed poor leadership, and we fell in both camps ourselves. As leaders, we felt the struggle to be "all the things" to our colleagues, trying to figure out how to empower them to be great, while being great to them. So, we dove in and read all the books, worked with incredible coaches & consultants to create what we needed as leaders to stay connected and aligned with our team and our goals by doing the simple things that aren't easy but are so necessary to create exceptional teams."
"We're on a mission to help people become who they're called to be by bringing to light the truth about individuals and teams by providing simple systems for intentional growth.Our why is to change peoples' hearts and their relationship with work – all to help change their lives. It is so easy to get caught up in what isn't going right in work, relationships, and the world; we've been there, and know there is a better way. We want to help people be great humans both at work and at home."
As she takes time to reflect, Melissa shares what some of the low points and high points have been with CoreCounts. "The lowest point was finding the balance between staying the course and being nimble to meet the needs of prospective clients. It can be incredibly easy to fall into the trap of chasing opportunities when prospective clients say things like, "If your product had X, we'd definitely be interested." We'd leave meetings floating, knowing our team was talented enough to build exactly what they were requesting. The DEV team would build it, we'd circle back to the prospective client and find out they just weren't ready to purchase. Suddenly, the excitement gave way to exhaustion trying to meet everyone's request, disappointment that we weren't closing, and a confused product and sales team. The highest point is seeing transformation in teams. We get to watch people see each other for the first time. Our clients get a true understanding of why they are they are the way they are and what makes every personality great. When colleagues know and understand each other, it gives them the freedom to be vulnerable and fosters a culture of trust. Teams who achieve this are empowered, engaged, and perform. In short, they love their work. We love seeing people love their work."
As she thinks of ways the community can support CoreCounts in their next stage of growth, Melissa suggests, "By spreading the word about who we are and how we can help organizations and teams. We often joke (except we're totally serious) that if you have people, you have problems…but you also have things to celebrate. More often than not, we get caught up in what we're not doing well, or what we wish we'd be doing, and we lose sight of the great things we are doing. Our analytics tool helps you recognize the areas for opportunity and celebrate & sustain your greatness. Our consultants will help guide you and your team to become high trusting, authentic, and high-performing teams."

If you would like to learn more about CoreCounts, you can visit their website, or their social media accounts.