StartupBREW is a weekly event for entrepreneurs, innovators, creatives, and community members alike to come together and explore the entrepreneurial journey.
A lot goes in behind the scenes to produce this weekly event. It would not be possible without the collaborative effort of the energized, driven individuals on the StartupBREW team. Keep reading to get to know them!

Lead Coordinator
You probably recognize Emma as the lead coordinator of StartupBREW Fargo! She handles all things Entrepreneurship at Emerging Prairie as the Entrepreneur Programs Manager. She joined the team in 2017 as an intern and transitioned to year-round in August of 2018. Her favorite "BREW" is Drekker Brewing Company's Pushing Daisies!
Every week, Emma witnesses the generosity and support that the Fargo ecosystem is willing to give to those who work hard. She finds "Magic" in the moments before and after the event when attendees connect with one another – this makes her happier than anyone will ever know. She's energized knowing that when people speak at #StartupBREW they'll walk away better connected.
Emma's advice to every attendee – Try to leave the event with as many new friendships as possible. StartupBREW attendees are approachable, kind, and supportive – just say hi! And if you're nervous, start by saying hi to Emma.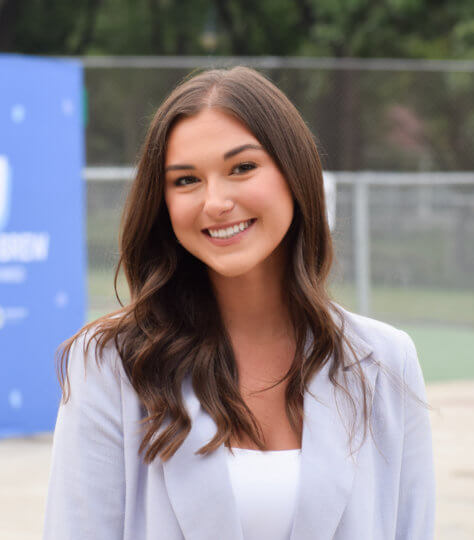 Marketing Coordinator
Jessica joined the team as an intern in the summer of 2020 and transitioned into her full-time role as Marketing Coordinator at the start of summer 2021! Her go-to morning "BREW" is an Iced Americano.
She's proud of the community and culture behind StartupBREW, "I love watching new attendees experience their first StartupBREW event where they meet other individuals with similar interests, get plugged into exciting opportunities, and watch them come back week after week. I've seen incredible growth in the StartupBREW community over the last year and I wish everyone could attend at least once."
Jessica is the voice behind StartupBREW's Facebook, Twitter, and Instagram, as well as the StartupBREW Fargo Podcast! She's always down to talk all things creative so say hi to her next time you see her at StartupBREW!

Entrepreneurial Ecosystem Events Intern
Quinn is heading into her Junior year at Concordia College, and joined us may of 2021 as our Entrepreneurial Ecosystem Events Intern! Her favorite "BREW" is a classic Cold Brew.
She's inspired by the talent and motivation she witnesses every week at StartupBREW and it's given her the motivation to explore new opportunities and strive for greater goals. She's proud to be part of a team that works for the betterment of the community and is energized by the opportunity to watch this community grow.

Creative Manager
Darby is Emerging Prairie's Creative Manager and Brand Designer. She is the one behind StartupBREW's beautiful brand design! Her favorite morning "BREW" is an Iced Vanilla Latte while her evening "BREW" of choice is a Wild Terra Cider.
The StartupBREW brand was designed based on the foundational elements of the event, "We were able to get creative with colors, use of shapes, and play with words that showcased momentum and energy. We wanted to create a space for everyone in the entrepreneurial ecosystem to gather, feel welcomed and share ideas – and what better way to do that than over brews!"
P.S. Darby is the one behind all of our photos, so you'll most likely see her with a camera in her hands when you say hi to her at StartupBREW!

Marketing Manager
Andrew is Emerging Prairie's marketing manager and has been on the team for about two and half years! His favorite "BREW" is a latte from Young Blood Coffee Co.!
In the launch of StartupBREW, Andrew found himself inspired by the team behind the work. The crew is ready to make a difference in Fargo, and StartupBREW is a great representation of the team's desire to consistently strive for more.
Fargo's entrepreneurial ecosystem never fails to inspire Andrew, "I think what inspires me the most is the idea that all of these entrepreneurs coming through StartupBREW have, at some point in their life, seen a problem and decided, 'Hey, I'm the person to find a solution. I can do this!' It's inspiring to see people who are so passionate about their entrepreneurial venture, and it warms my heart that these people have decided to make our region their home."
StartupBREW Volunteers
Jack Gibbons
Coffee Master
You may recognize Jack as the man behind your morning StartupBREW coffee.
Jack has been a faithful Emerging Prairie Volunteer throughout summer 2021 and his favorite "BREW" is Caribou's Cross Fox espresso.
Jack has a front-row seat at coffee club every week where he gets to see StartupBREW attendees meet and connect. He's inspired by the enthusiasm he witnesses at the early 8 am hour – it's drawn him to stay part of this growing community.
Say hi to Jack and thank him for hanging out with us every Wednesday – after all, he is the coffee guy, arguably the most important player on the team.
Roger
#1 Greeter
Roger has been with the team since the very beginning as StartupBREW's #1 greeter! His morning BREW of choice is a hot coffee.
Having only missed about ten Wednesday morning events since 2012, Roger has seen it all. He loves working with young people and watching them grow throughout the years. He's also a huge fan of the Random Acts of Art – he finds the talent in this town unbelievable!
Roger is probably one of the first people to greet you at StartupBREW, but if you haven't introduced yourself yet make sure to do so next time you see him and thank him for sticking with the team throughout the years.
Cheers, to these dedicated individuals working to energize Fargo's entrepreneurial ecosystem. To learn more, check out the StartupBREW Fargo Website, Facebook, Twitter, and Instagram, and take a listen to the StartupBREW Fargo Podcast!