About Jeremy
Jeremy Jensen the cofounder of Fix It Forward Ministry and is currently working as a Principal Software Architect at Microsoft, starting back in 1999 with Great Plains Software. He's lived in Moorhead sense the age of three and graduated from Moorhead High School and Minnesota State University Moorhead.
He has a passion for cars and helping others. When not working at Microsoft or leveraging his passions at the Ministry, Jeremy is active in church and enjoys camping and spending time with his wife and two great kids.
About Fix It Forward Ministry
Fix It Forward Ministry is a nonprofit dedicated to removing transportation barriers in our region by providing free auto repairs and cars to in-need individuals throughout the community. I had a chance to ask Jeremy some questions about Fix It Forward Ministry to drive deeper into their mission and values!
Tell us about Fix It Forward Ministry and your mission.
"Fix It Forward Ministry (formerly Higher Power Automotive Ministries) is a 501(c)(3) not-for-profit charity located at Fix It Forward Auto Care in Fargo, ND.
Our goal is to remove the transportation barrier for needy members of our community thus helping enable them to be independent and self-sufficient.
This is accomplished in two ways. First by providing free car repairs to needy individuals, to help keep their vehicles on the road and safe. Second by repairing donated vehicles and giving them to needy members in our community who do not have a vehicle or whose vehicle is beyond repair. We utilize volunteer labor, discounted parts, and charitable donations to cover the costs of repairs."
What drives the Fix It Forward mission? Who are you trying to help?
"Without reliable transportation, it is difficult to get or maintain a job, and without a job, it is hard to maintain your independence and dignity. As one might imagine, transportation issues are huge in our community and the need is overwhelming. Additionally, utilizing public transportation can take hours. This creates challenges when trying to get kids to daycare and get to work. It is especially challenging for single parents."
Unlike many bigger cities, people often can't just take a bus to work, school, or appointments because our public transit system has limited hours and locations.
Fix It Forward Ministry is officially a part of the Fargo-Moorhead founder family. How can our community support you in your next stage of growth?
"There are four ways you can help: Donate time, donate money, donate vehicles, and spread the word."
Follow Fix It Forward Ministry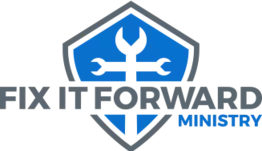 Readers can learn more about Jeremy and Fix It Forward Ministry by visiting their website, Facebook page, and Instagram profile.