About Kevin
Kevin Biffert is the President and CEO of 701x, a company that aims to improve the lives of ranchers through innovation to track livestock assets. After graduating from NDSCS, Kevin was hired as a programmer at 3M in Wahpeton, North Dakota. During his time with 3M, he earned an engineering degree from North Dakota (UND). A drop-off in the electronics industry left Kevin with the opportunity to formulate a new professional path. Kevin Began offering his services to automate things for customers. In July 1996, Keving launched Fargo Automation Inc. Kevin later Founded 701x, which builds tracking devices and software for the livestock industry.
About 701x
701x is an organization passionate about connecting ranchers to their herds. "701x develops and manufactures highly innovative precision agriculture technologies for livestock." The tracking devices and the livestock industry software starts tracking a day-old calf and mother and then through the path of growth until slaughter. "I have family members that are ranchers, and they want to know where the asset (livestock) is located," states Kevin when talking about the idea behind his company. "Our mission is to improve the ranchers' lives through innovation to track the asset of livestock." The six critical solutions that absorb the focus of 701x are GPS location, health monitoring, calving, estrus/heat, record-keeping, and traceability platform.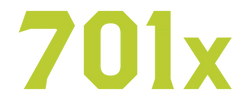 Learn more about these six critical solutions and more on their Facebook, LinkedIn, and Instagram, and check out their website www.701x.com.