Meet David V., a current student of Emerging Digital Academy's Hopper cohort!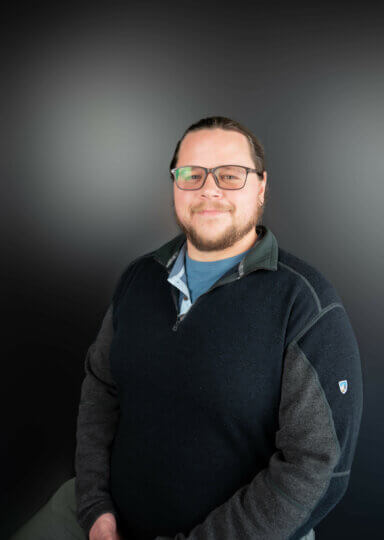 Where were you born and where did you grow up?
I was born and raised in West Fargo, ND. I've only lived in Fargo or West Fargo.
Why Emerging Digital Academy?
I've always been interested in anything tech. More specifically how and why technology is able to work. As someone that is trying to change careers a little later in life EDA's accelerated approach seemed like a good fit.
What were you doing before joining EDA?
I've had a few odd jobs: warehouse, retail, farm hand. My longest term career was when I was a Senior Claims Processor at a crop insurance company for 6+ years.
What's your ideal occupation after graduating from EDA?
Full time developer – not sure on a specific area yet.
What's the most interesting or surprising part about your time at Emerging Digital Academy so far?
I think the most interesting part is how much I'm enjoying time here. I figured I'd like the learning about coding part but the human/personal side of the program I'm surprised I'm enjoying as much as I am. I actually thought due to the length of the program and amount of content covered we would not go into things outside of the actual learning to code much but it's actually the opposite.
What are your hobbies outside of the coding academy?
I like fishing, camping, motorcycle rides, concerts, spending time with friends and family, video games, playing with my dogs, and trying something new.
Give a shoutout to somebody in your cohort. What have they done that has wowed you?
Everyone I've interacted with so far. Everyone from the instructors, EP staff, and cohort mates are just great people. I look forward to coming in every morning and spending the day with them.
Is there any advice you'd give to somebody thinking about joining Emerging Digital Academy?
Don't think about it, just do it. Embrace the challenge and you should thoroughly enjoy your time in the program.
Have a story similar to David's?