Meet Joey, a current student of Emerging Digital Academy's Hopper cohort!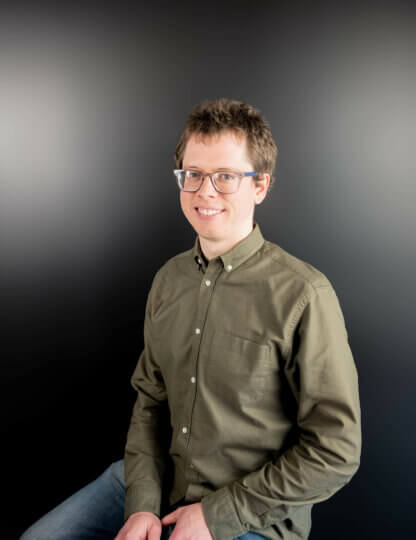 Where were you born and where did you grow up?
I was born in Grand Rapids, MN, but moved to Fergus Falls shortly after where I grew up.
Why Emerging Digital Academy?
Emerging Digital Academy was recommended to me by several professionals in the area as a fast track to beginning my career in tech. I was excited to see how EDA and Emerging Prairie strive to serve not only their own students, but the larger FM tech community as well. That focus on community was what really set EDA apart from other programs I considered.
What were you doing before joining EDA?
Before EDA, I was teaching music at UMD in Duluth.
What's your ideal occupation after graduating from EDA?
My ideal job is one that supports me as I continue to learn and grow as a developer.
What's the most interesting or surprising part about your time at Emerging Digital Academy so far?
I've been especially impressed with my cohort! Their passion and dedication has been truly inspiring as we work through this intense curriculum together.
What are your hobbies outside of the coding academy?
Outside of class I enjoy cooking, getting outside (fishing, hiking, kayaking, etc), and spending time with my girlfriend and our poodle! I also enjoy playing music gigs around town with various jazz/pop groups, the FM Symphony, and the FM Opera.
Give a shoutout to somebody in your cohort. What have they done that has wowed you?
Shoutout to my entire cohort! Everyone brings something different to the table, and I've learned so much from each one of them. I can't wait to see where their new careers will take them!
Is there any advice you'd give to somebody thinking about joining Emerging Digital Academy?
There are so many amazing (and FREE) resources available online to get started with. Before applying, I would take a look at the EDA curriculum and spend as much time with the material as you can. You'll find out quickly if this path is interesting to you, and you'll be setting yourself up to thrive if you do decide to attend. Besides that, make sure to reach out to awesome the EDA staff!
Have a story similar to Joey's?