Longtime Prairie Den member, Austin Foss, has recently jumped into his newest entrepreneurial venture with Pops & Bejou Games and their first board game, CULTivate.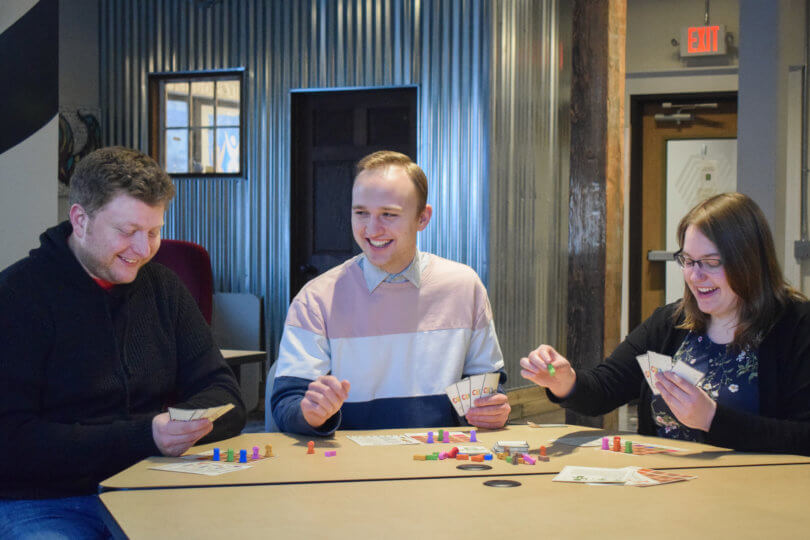 Sitting at a desk surrounded by Lego Architect sculptures, architect Austin Foss has been working from the Prairie Den since 2019. Austin has watched the Prairie Den grow, weather the storm of 2020, and most recently committed to joining us in our move to the Black Building in 2021 with the launch of his new board game company – Pops & Bejou Games. 
In 2020, Austin and friends were inspired by their love of board games to create Pops & Bejou Games – a home for their first board game, CULTivate. With this start-up growth, the Pops & Bejou team decided to make the Den their home base by becoming official members of the Den- even printing our new Black Building address on their printed boxes! 
"I am so glad that we have made the decision to become full-fledged members. Being able to use facilities such as conference rooms for business meetings and printing tools to create prototypes at the Prairie Den has helped us get started when working on a limited budget. Having access to all of the resources we need all in one place has allowed us to focus on the work we need to do rather than on finding our own resources." – Austin Foss
You can support Pops & Bejou's first game, CULTivate, on Kickstarter right now! Click here to head to their page to support this Fargo-based board game company.
"It really feels like I am part of a community, and that community has been so supportive of all my endeavors, including Pops & Bejou." – Austin Foss
Read more entrepreneurial news and articles on www.emergingprairie.com.