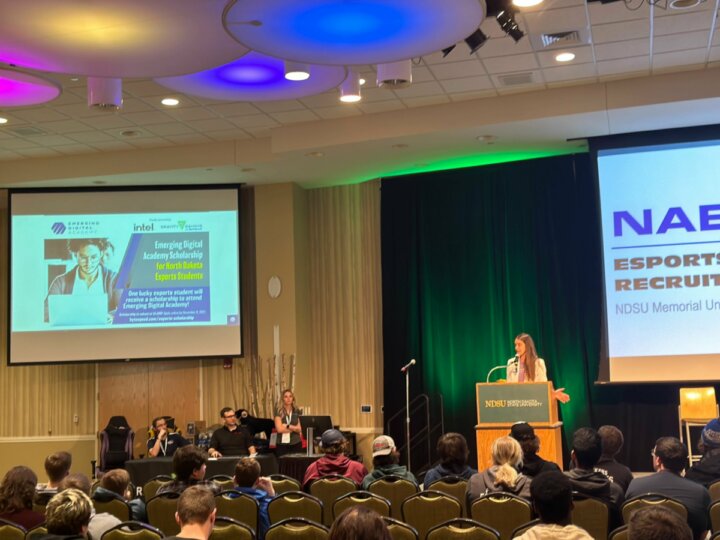 MOORHEAD, MN, OCTOBER 27, 2022 – One lucky North Dakota esports student will receive a scholarship to attend
Emerging Digital Academy, valued at $5,000!

Emerging Digital Academy is an immersive 20-week coding boot camp based in Fargo, ND, that was created to
address the growing need for software development talent in North Dakota. This accelerated program enables students
to become a full-stack software engineer in just five months. To learn more and apply for this scholarship, students
should visit: bytespeed.com/esports-scholarship/

"The curriculum is designed to emulate the on-the-job training experience that an entry level developer would receive in
the first few months at work. Students will create connections to their fellow classmates, guest speakers, and local
employers that they will be able to call upon throughout their career," says Blaine Booher, Program Director at
Emerging Digital Academy.

The scholarship will be announced at the NAECAD Clinic and Esports Recruiting Event at NDSU this weekend,
October 28-29. This event is open to the public and is a great opportunity for students interested in esports to attend
educational sessions, learn more about high school and collegiate esports opportunities, scholarships, and much more!
More than 100 area esports students are registered to attend, and esports coaches from Fargo and West Fargo
schools will be available for media interviews.
---
For more information on the scholarship or esports event, please contact:
• Josh Knutson, Gravity Gaming by ByteSpeed Esports Director – jknutson@bytespeed.com or (218) 512-1054
• Elizabeth Denning, ByteSpeed Marketing Manager – edenning@bytespeed.com or (218) 512-1057
• Matt Wendel, Emerging Academy Director of Marketing & Communications – mattw@emergingprairie.com

Articles about this event:
• https://www.linkedin.com/feed/update/urn:li:activity:6990714384184475648/
• https://www.inforum.com/business/business-buzz-acme-breaks-ground-on-new-fargo-facility-esports-recruiting-event-planned-at-ndsu-and-more
---
ABOUT EMERGING DIGITAL ACADEMY
Emerging Digital Academy, energized by Emerging Prairie, teaches a Full Stack Engineering program. This program is
an immersive 20-week course that teaches not just the concepts of coding and software design, but how to use cutting-
edge software tools to build modern web apps from the ground up. No prior software development experience is
required. Emerging Digital Academy was founded in 2019. Learn more at emergingacademy.com.

ABOUT GRAVITY GAMING BY BYTESPEED
Gravity by ByteSpeed is proud to partner with Intel to provide this esports scholarship. ByteSpeed (bytespeed.com)
was founded in 1999. We combined our passion for PC gaming with more than 23 years of computer industry experience
to create Gravity Gaming by ByteSpeed, a product line of custom-built esports PCs (bytespeed.com/gravitygaming).